EE Day & Sons have been operating since 1943 as a family owned business built on trust and honesty.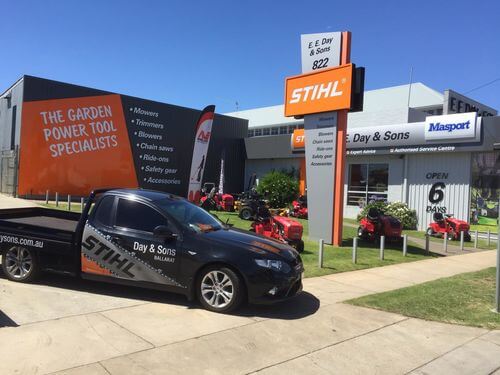 Located at 822 Howitt Street Ballarat, right next door to the Show Grounds, come in and see our bright and fully stocked showroom.
Our business prides itself on its excellent reputation and delivering fast friendly service, which is very important in today's retail service industry.
The Service Centre at EE Day & Sons repair everything we sell and most other brands such as Toro, Husqvarna, Victa and Bunnings power equipment. If you cant drop your machine off, we can pick it up for you (surcharges apply) or you can borrow our trailer and ramps at no charge.
The team at EE Day & Sons have years of experience working in the Outdoor Power Equipment Industry, all of our staff have been with us for 10 years or more, so you know you are getting the right advice and choosing the right machine for your needs. All of our machines are assembled, fueled, oiled and ran, as well as our friendly staff running through the starting and operation of your product, answering all of your questions. You'll leave feeling confident in using your machine like a pro!!
We carry a wide range of equipment to suit all your' needs, whether you're right in town with a very small yard to the weekender or commercial operator to Schools and Council Organizations.
We are also The Home of the Gold Rush, click the image below to go to our dedicated Gold Ballarat Site for the best price with the best advice.